Signing of Cooperation Agreement between AALCO and the Hague Conference on Private International Law
1 September 2016– The Secretary-General of the Asian-African Legal Consultative Organization (AALCO), H.E. Prof. Dr. Kennedy G. Gastorn, and the Secretary General of the Hague Conference on Private International Law (HCCH), H.E. Dr. Christophe Bernasconi, signed a Cooperation Agreement between their respective organizations in Bejing, People's Republic of China. H.E. Prof. Gastorn and H.E. Dr. Bernasconi were both in Beijing to deliver lectures at the Second Training Session of the China-AALCO Exchange and Research Program on International Law (CAERP). According to the agreement, the two sides agreed to promote information sharing and exchange of views in accordance with respective rules, strengthen the cooperation to raise awareness of the Hague Conventions, facilitate access to Training Programmes, help to boost each other's mandate and etc.
The HCCH is the intergovernmental organization, headquartered in The Hague, Netherlands, and currently comprises 80 Member States and one Member organization—the European Union. The HCCH serves as the administrative body of 38 multilateral treaties and conventions on private international law, including the Hague Convention Abolishing the Requirement of Legalisation for Foreign Public Documents (Apostille Convention), the Convention on the Service Abroad of Judicial and Extrajudicial Documents in Civil or Commercial Matters (Hague Service Convention), and the Hague Convention on Protection of Children and Co-operation in Respect of Intercountry Adoption (Hague Adoption Convention).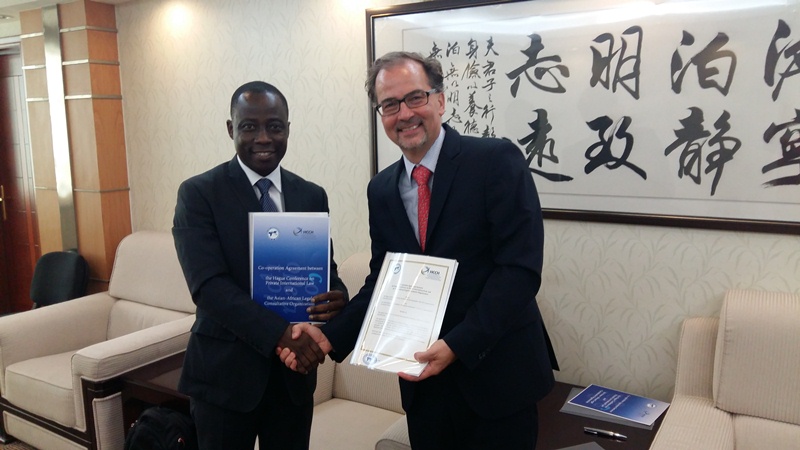 Cooperation Agreement between AALCO and the Hague Conference on Private International Law (HCCH)